Are you planning on travelling through Waikato Region in the North Island? If so, then a visit to the Hamilton Gardens should be an absolute must! Even if you are on a time restraint, do set aside at least two hours. It will be worth it. I guarantee you will experience some truly beautiful gardens and tranquil moments. However, you could actually spend the whole day here if you wanted to. All 58 hectares of the Hamilton Gardens have been designed both calm and invigorate you –  especially if you are a self-drive traveller.
Visiting Hamilton Gardens
The Hamilton Gardens is a few minutes drive from Hamilton City Centre at Hungerford Crescent. It is owned and managed by the Hamilton City Council. Even when I visited in winter, it was very well maintained. Finding a carpark will not be a problem. There is a huge carpark just outside the entrance to the gardens. After arriving, I would suggest that you go first to the information desk. For a small sum of money you can buy a map. This will really help as you wind your way from one garden to another.
History on Hamilton Gardens
The Hamilton Gardens as we know it today, was once a rubbish dump with circling seagulls! This was back in the 1960's. So you can imagine what a mammoth task it was to create this gorgeous garden. Since that time, the gardens have evolved in scope and vision. Overall, there are 21 gardens to walk through. Each gardens represents the art, beliefs and traditions various civilisations throughout history.
Paradise Garden Collection
Chinese Scholars Garden
The Chinese Scholars Garden has been designed to reflect the 10-12th century Sung Dynasty gardens. Like a lot of the gardens here, a beautiful tranquil water feature has been laid out. There are seats where you can just listen to the sound of the birds and relax.
Japanese Garden of Contemplation
The serenity that this garden provides is perfect – especially when you have a myriad of things going through your mind. The Japanese Garden of Contemplation has been created to reflect the 14th – 16th Muromachi Period for gardens. So what you'll see is more of a dryer landscape, as opposed to the more lush foliage of the other gardens. There is a beautiful Japanese pavilion at the top end of the garden,
Indian Char Bagh Garden
This is a gorgeous four-part garden complete with an Indian pavilion at the end. It was quite common for this style of garden to feature throughout the muslim, christian and buddhist world. You'll love the scented flower gardens that spreads out like a Persian carpet.
Italian Renaissance Garden
Do you like all things Italian? If so, then the Italian Renaissance Garden may very well be your favourite! This garden draws its inspiration from antiquity and reflects beautiful sculptures and geometric patterns. Along each side there are rows of citrus trees and seats where you can sit and smell their perfume.  It would be fair to say that this is where I spend a large amount of my time.
English Flower Garden
The Hamilton Gardens would not be complete without a good old English flower Garden. As a predominantly plant and flower garden, this one really excels. The English Flower Garden is designed in the style of an Art and Craft garden of the 19th century. The designers have made very clever use of walls and hedges to create a series of outdoor rooms.
Ancient Egyptian Garden
The Ancient Egyptian Garden reflects the architecture of a very ancient civilisation. We are so lucky that archaeologists have collected so much information about this period in history. They know a lot about what these gardens must have looked like. From the entranceway through to the actual garden, hieroglyphics feature everywhere. In fact, this garden is thought to be the first recreation of this type of sacred garden!
The temple compound is enclosed by high walls. The most beautiful pergolas are covered in grapevines – believe me, its quite a sight. In ancient times people would would sit by the rectangular garden pool and  meditate about the afterlife.
Fantasy Garden Collection
I think families, especially those with small children, would really like this collection. Most kids love a bit of fantasy. There are six of these gardens to view – each one of them showing different categories of garden fantasy.
Surrealist Garden
Who could not love the slightly 'spooky' Surrealist Garden. The rather bizarre work of Salvador Dali springs to mind when you walk through this one. The Surrealist Garden seems to be full of dream sequences with a few surprises along the way. But I won't spoil those for you. Let's just say, you may think you're looking at some trees, but are you?
Tropical Garden
If you love the tropics and lush ferns and foliage, slow down as you walk along the boardwalk. From either side what you will breath will be pure oxygen.
The Tropical Garden has been cleverly designed to create a junglelike atmosphere. This has been achieved by the planting of bromeliads, orchids and massive palms. The vertical garden which has 4,000 cells each with individual plants, will take your breath away!
Tudor Garden
This reminded me of an illustration you might find in a children's fairytale book. The architects have tried to authentically as possible, to replicate a 16th English renaissance garden. The English aristocracy of that time were fascinated with geometric patterns. Many of the fantasy beasts in these gardens represented symbolisms with a double meaning. These gardens provided the perfect venue for plays and general entertainment.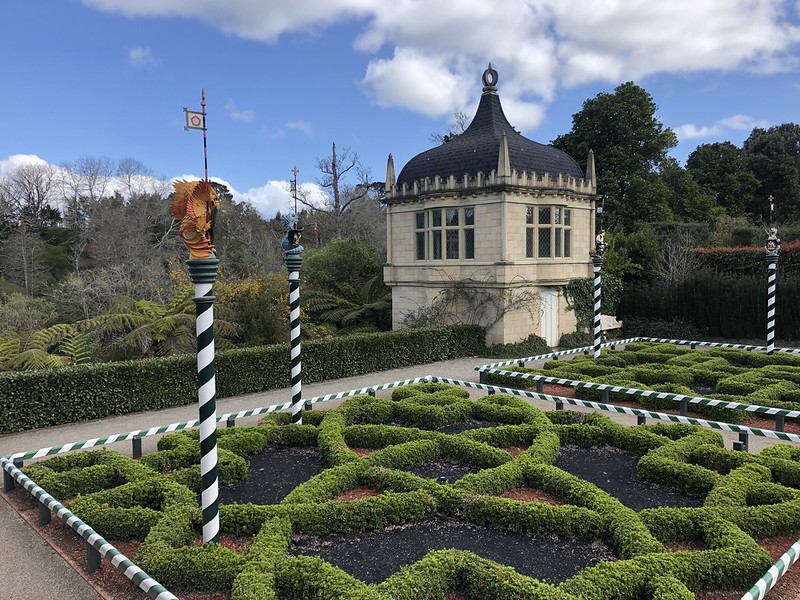 Productive Garden Collection
While these gardens may not have the spectacular impact of the others I have mentioned, they are still incredibly important. The Sustainable backyard garden teaches the principles of sustainable food production. It gives novices gardeners like me, a starting point for their own backyards. The Herb Garden will delight your senses, as you pass through rows of  lavender, rosemary and thyme.
Te Parapara Garden
The Te Parapara Garden is not only about the physical development. Of course it is fascinating to see the traditional Maori practice of garden food production. But there is also an emphasis on growing plants for cultural use. What is obvious, is that their knowledge regarding the cultivating of plants was extremely sophisticated.
Summary of Visiting Hamilton Gardens
I have not listed all the gardens in the vast acreage of the Hamilton Gardens. But for the main part, I have tried to demonstrate the variety and splendour of the experience. There is a reason why the Hamilton Gardens has been classified as world-class. The gardens are a major attraction for the area and they are definitely out of the ordinary. Do not miss out on seeing this magical place!
Helpful New Zealand travel links
Enjoy travelling New Zealand with an electric car!