The Edwin Fox Ship Picton Marlborough is sometimes overlooked as a tourist attraction. However it is actually located right next to the Picton Ferry Terminal. It's a fantastic place for families to view clever displays, interactive videos and a surprise or two. The Edwin Fox Museum is run by volunteers passionate about restoring a ship with such a fascinating history.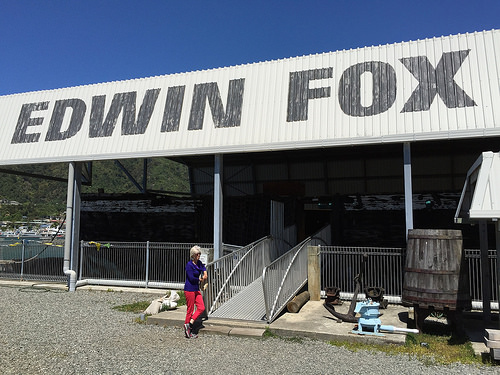 The Edwin Fox is the last surviving ship to carry immigrants and convicts to New Zealand. The age-old 'ball and chain'quip to males about to marry, may have originated from something far more sinister.
Edwin Fox Ship Picton Marlborough – inside the museum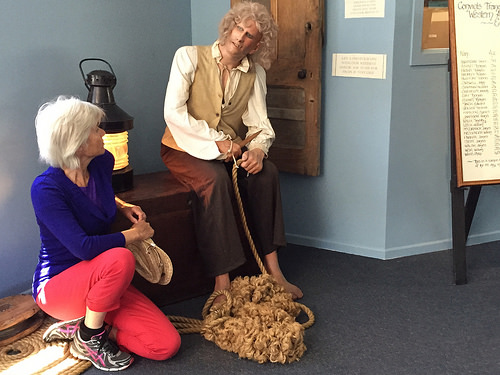 The tour starts in the actual museum building and its quite impressive. There's an excellent replica of the Edwin Fox in a glass cabinet and a sailor or two with a good yarn.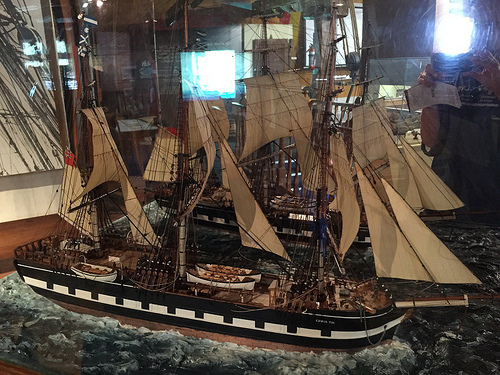 The entire floor is laid out with old beams, thick ropes and wooden floorboards designed to creak when you walk on them. The archived video film is a great watch. Some decades ago, there was talk of towing the Edwin Fox out to sea and scuttling it! Thankfully, some of the good people of Picton objected.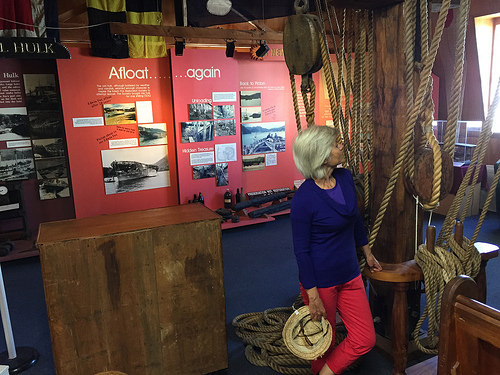 Edwin Fox Ship Picton Marlborough – On the top deck
The dry dock with the skeletal remains of the Edwin is a short walk away. This vessel is huge and you can actually go on-board and explore. Michael and I larked about on the top deck, each taking a turn to steer.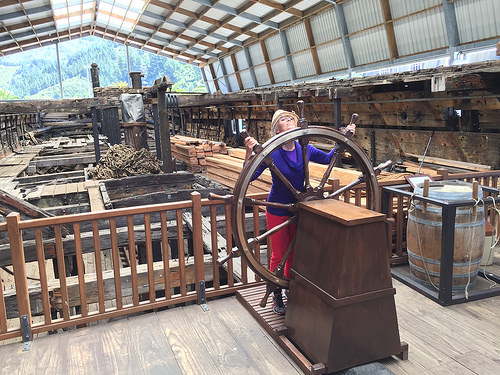 Edwin Fox Ship Picton Marlborough – further exploration
Once we descended into the bowels of the ship, the atmosphere within the ship became sombre. You might get the feeling that ghosts linger here.
Its easy to imagine the pall of desperation from many passengers who endured and sometime died from sickness and childbirth. And the convicts fared much worse. They were tethered by a large ball & Chain. Corporal punishment was meted out at the whim of the Ship's captain and alarming, the Ship's surgeon!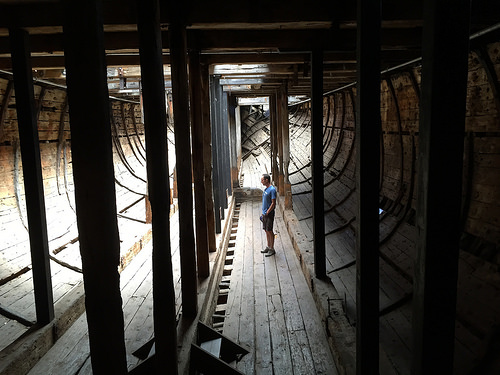 Feeling a little spooked, I was relieved to climb back on top deck to a golden sun. This was a great find for visitors to Picton. There is a nominal entry fee so its very affordable for families. Donations are gratefully received to support the further restoration of this amazing piece of history – Edwin Fox Ship Picton Marlborough