New Zealand Culture – a day at the Races. What better way to immerse yourself among the locals. By spending a day at the races, you'll certainly discover a surprising amount about New Zealanders. This is an event that families together. It's an affordable day out and a lot of fun.  And you'll often have the best day ever in the less populated parts of the country. This is good news for international travellers who just want to kick back and immerse themselves in a great New Zealand tradition.
New Zealand Culture – a day at the Races – Harness Racing
For those of you who don't know, Harness Racing is a specialised form of horse racing.  The horses are trained to race at a trot, pulling a two-wheeled cart called a sulky. Each January, Harness Racing is held in the lovely suburb of Richmond, 20 minutes drive from Nelson City. This is a 2-day event attracting over 7000 people and its incredibly colourful.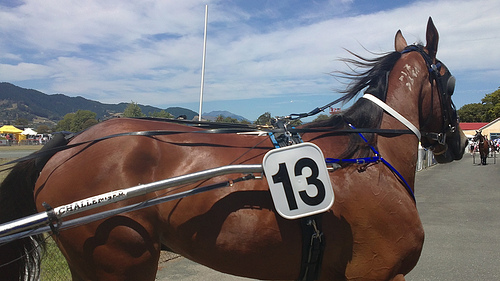 A lot of racegoers bring their own supply of refreshments, but plenty of food stalls selling street food.  You're sure to see some sights – some rather lovely and others, not so much. These ladies got it right though.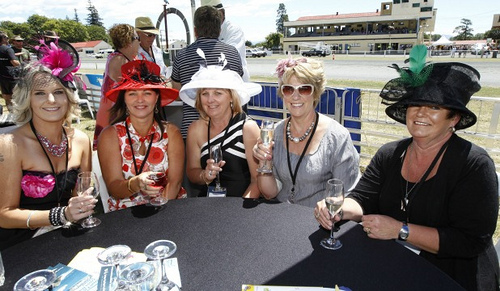 New Zealand Culture – a day at the Races – interaction with the locals
This is a family friendly event where you can stroll over to the stables nearby for a close-up look at the horses.  You might strike it lucky and catch one of the horse-trainers leading the horses out of the stalls. On the day we attended, one handsome chap, 'Royal City', had an instant connection with Michael.  I don't know how well he did on the day, but his name would suggest he was definitely in with a chance!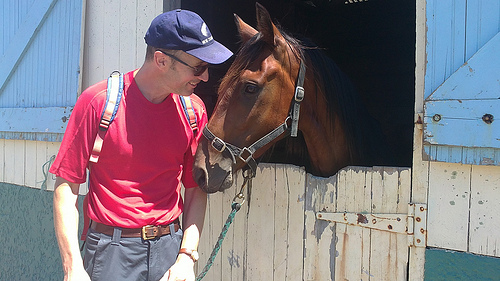 New Zealand Culture – a day at the Races – the excitement
You'll find plenty of atmosphere and buzz at these events. Before the start of each a race, the runners are paraded in the birdcage which is the enclosure at the front of the grandstand.  Here, everyone gets a chance to assess the horses before placing their bets. Handy hint: If a horse is badly behaved in the birdcage, chances are they won't race well.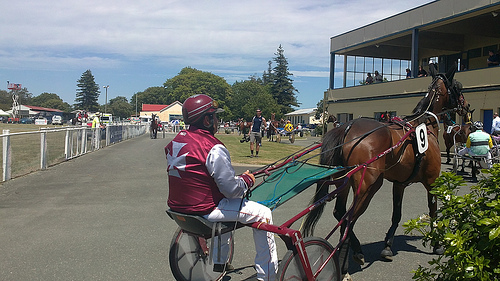 Some old-timers seem to live forever.  I'm sure the same ones from my childhood were still 'holding up the bar'. These guys are walking historians and some of them, real characters. Actually, the old-timers have seen it all. They've probably lost more than what they have won. But like us, they'll put it down to another perfect day in paradise.
Happy travelling