Havelock Pelorus Sound – a special place to stop. Havelock is not just a drive-by. This pretty little town is a very nice refreshment stop with very clean toilet facilities. Towns like Havelock often have special attractions and today, I found one of them.
Havelock Pelorus Sound is located Nelson and Picton
There's no better way of getting travellers to stop if all your cafes are lined in up in the main street.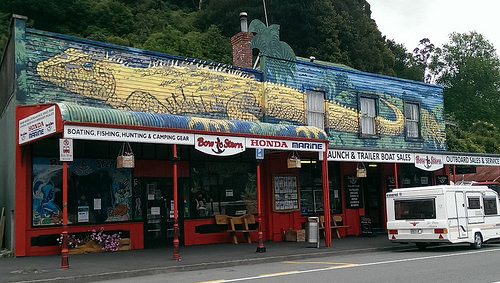 What traveller could refuse to have their photo taken outside this iconic landmark?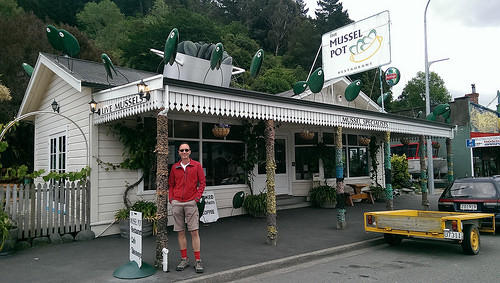 The Gallery in Havelock, Pelorus Sound
We found this beautiful newly opened little art gallery simply named "The Gallery Havelock" The Gallery Havelock is not only special for it's carefully chosen display of local artwork, but it is also supplied and operated by very forward-thinking individuals. The locals have formed a Trust in which which profits are returned to the Havelock community.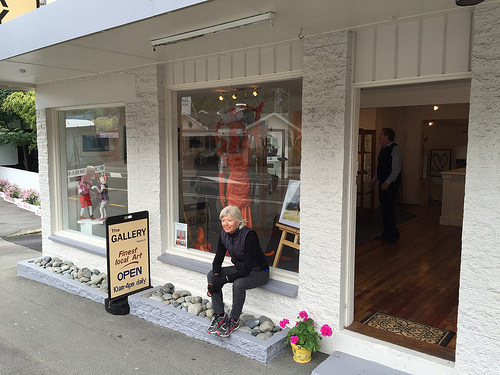 I met Brett Avison, a children's writer and a volunteer at the gallery. In the photo below, it looks as though he's giving me my marching orders, but in fact he's actually pointing out a sculpture made of pure whalebone, the value of which you might be surprised to see in a small town gallery.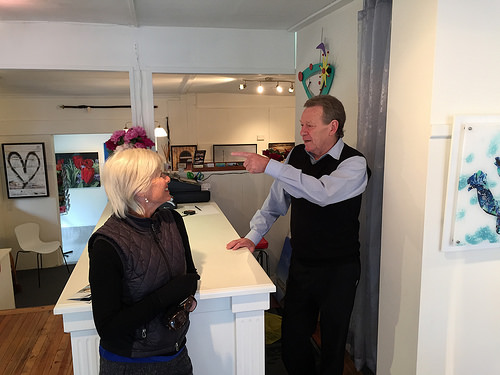 That's the beauty of this lovely gallery. Artwork prices range from $35.00 to $10,000 and even at the lower end of the spectrum, it is authentic and quality artwork. I've found a treasure today and the folk here certainly deserve the success coming their way.
Havelock you little beauty, thanks for all the reasons for making me stop, both humble and fabulous!