I can't imagine there are many tours in the world, where you'd be invited back to someone's private home for refreshments.  This personalized experience takes on a greater significance with Maori tour Kaikoura New Zealand. The Maori people are proud of their commitment to providing a great welcome to travellers. They enjoy and are proud to immerse overseas travellers to their way of life and rich cultre. Maori Tours Kaikoura is a small company owned by Maurice and Heather Manuwatu of Ngai Tahu descent. If you want a less commercialised and a more authentic cultural tour, you'll love this tour.  Since we did this small group tour, Maori Tour Kaikoura New Zealand is now operating private one-party tours only.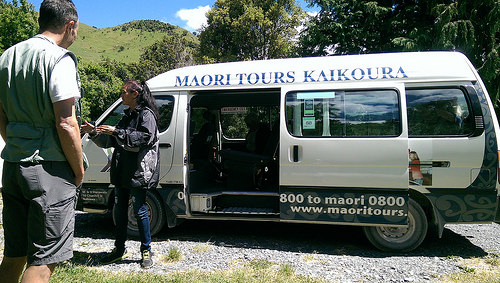 We're always impressed when tour operators stick to good timekeeping.  These guys were bang on time to collect us from our accommodation..'Uncle Major' did the driving and Rebecca proved to be an excellent Tour Guide. It takes skill to establish a good rapport with customers. Our half day tour began with a drive by mini coach to one of the Pa sites located on a beautiful scenic part of the Kaikoura Peninsula. Kaikoura scenery is stunning but from this vantage point it really took our breath away. A young Maori woman delivered a Pōwhiri. A Pōwhiri is a traditional Maori welcome always given by the females. It really does give you goose bumps.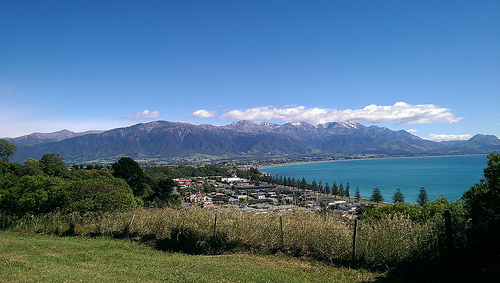 Rebecca gave a brief history of her ancestors and the land deals that took place between Maori and Pakeha.  Hey folks, be warned, you cannot remain anonymous in this tour. Group participation is encouraged and no one minds. Its a chance to sing and laugh and believe me, on this tour, there was a lot of that.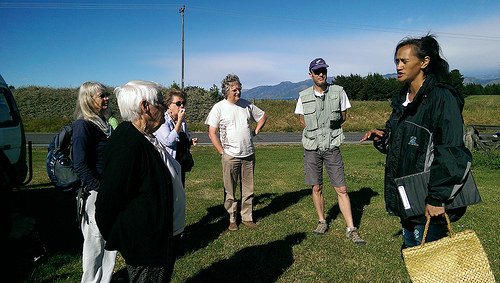 We were given songsheets to sing from. Rebecca sang a Maori song composed by her sister. I've never met a Maori yet that doesn't have a lovely voice. She's tuneful and pitch-perfect. Of course its a different story when our turn comes. What dismal warble! The next bit requires getting out of your comfort zone for a short while. The Hongi greeting involves the pressing of noses between one person and another. Slightly challenging, but we all do it. It really is an essential cultural tradition. Rebecca choose to give me the first Hongi and I think it went rather well (it briefly lost it's appeal when one of the Brits almost head-butted me with his Hongi.) Our next stop was at this lovely reserve at South Bay.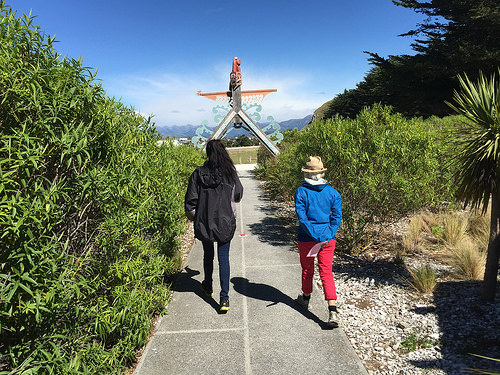 Pretty much on all all Maori cultural tours you'll see the beauty of Maori carving. This one really blew me away! It has become a much photographed piece of Maori art.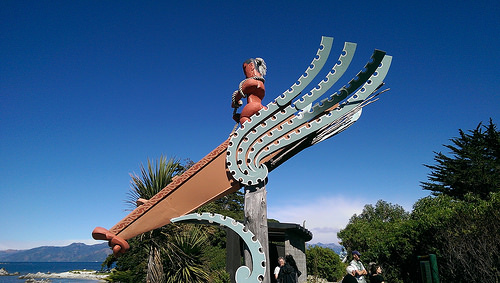 We all enjoyed our introduction to flax-weaving and just look at the concentration here folks!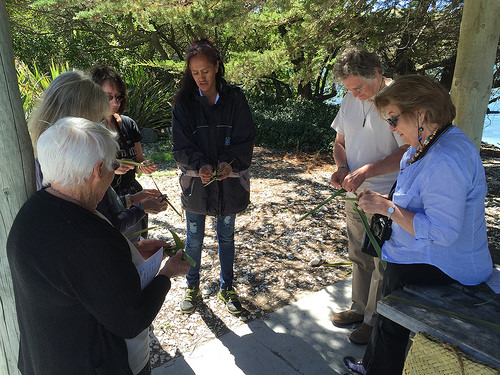 Not being that arty myself, I have to admit making an absolute hash of it. But Uncle Major was there to help. With great dexterity, he created the perfect flax flower. I held it up triumphantly, passing it off as my own work. Uncle Major kept 'schtum', bless him.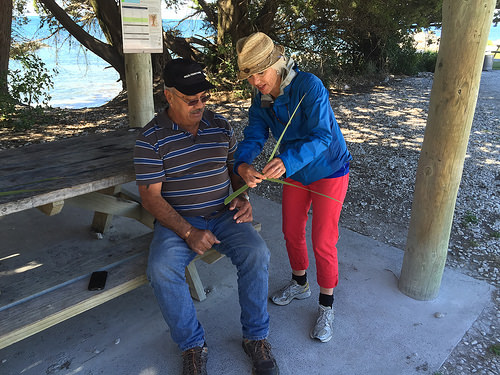 Now for that wonderful Maori hospitality. It was definitely unexpected to be invited back to a private home. It is usual with tours to have refreshments served in the open at a picnic spot or in a café in the area. It was a humble, welcoming home with traditional carved Maori sculptures and artwork on the walls. I can't remember the last time I was served fruit kebabs, homemade pikelets with jam and cream, fudge slice and homemade egg sandwiches (just like mum used to make) I swear the Kawa Kawa calmed my tummy. There's always time for more singing.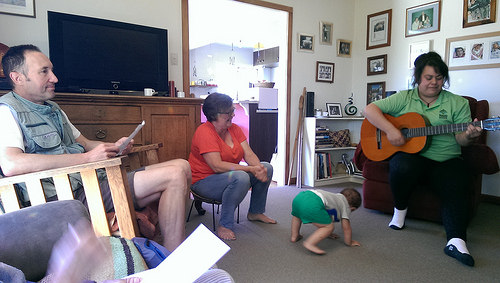 This was the hospitality I remember from my childhood growing up in New Zealand. Its rarer now so this was a sad and sweet moment of nostalgia for me. But the melancholy didn't last, as I was we're caught up in the moment of saying goodbye and heading for a forest walk. This is the educational part of the tour. There was a gorgeous perfume wafting through the forest and Rebecca advised that it came from the Matai Tree. It's a great cleaner and the whole forest seems to benefit from it.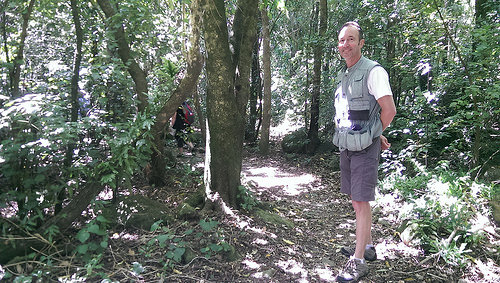 So many of our native plants have effective healing properties and Maori still use these today. Bees stings, cuts, burns and digestion problems – you name it, there's a plant for it. We European Kiwis use little white pills with chemical components for the quick fix to our ailments. I can't help thinking that the Maori answer to good medicine, is the better way.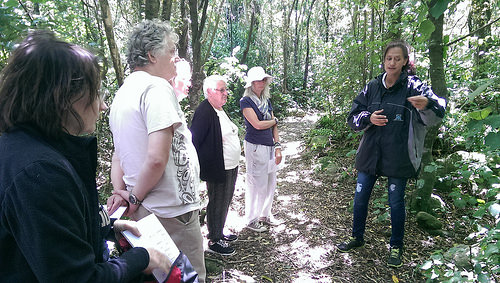 Small group tours are only as good as it's Tour-guide and Rebecca's knowledge of history and plants, plus her infectious enthusiasm, created a positive energy. Her strong mana contributed so much to this tour being an enriching experience for us. E noho ra Rebecca and many blessings.