Travelling the Otago Central Rail trail New Zealand will require a few necessary supplies – toilet paper and cash! These are just some of the items you will need to stock up on while you are cycling the Otago Central Rail Trail. That's because not all businesses in this area have an ATM machine – and do not count on all the off-trail toilets having toilet paper.
Travelling the Otago Central Rail trail New Zealand
The beautiful scenery of the Central Otago area is often missed by visitors travelling through New Zealand. Repeat travellers especially, should definitely consider cycling at least some of the trail. If cycling is not your thing, then think about exploring this area by car. Believe, me it really is true off-the-beaten-track. And for a young country, Central Otago has some pretty amazing history.  There is no better time to do the Otago Central Rail Trail, then in April.  The Autumn colours are simply breathtaking! In fact, many of us consider that April is the best season to travel NZ!
Travelling Clyde – Otago Central Rail trail New Zealand
The trail actually starts at the lovely little settlement of Clyde. Clyde is a very historical town with many of the old buildings still intact.  In fact, a lot of them have been restored and renovated to an extremely high standard. At first glance, modern cars do seem to look a little out of place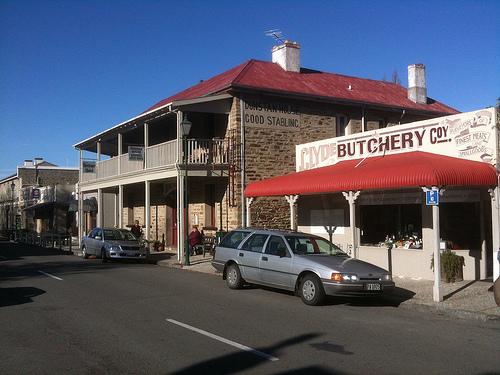 Olivers Central Otago Lodge & Stables
One great example of a beautifully renovated historical building is the famous Oliver's Lodge. Oliver's has seen many changes since 1869 when it opened as a general store.  But now, it is a luxury accommodation with differently priced rooms. However, Olivers is more than just an accommodation – because it does have an excellent restaurant, cafe and bakery, all on-site. And there are further developments afoot.
Travelling the Otago Central Rail trail New Zealand – exploring Alexandra
The town of Alexandra is only 8kms away and it is here that you'll find Black Ridge, one of the oldest vineyards in the area. Alexandra is the local hub of the area and famous for its tangy, mouthwatering apricots. For serious cooks, dried Central Otago apricots are a must-have staple in the pantry.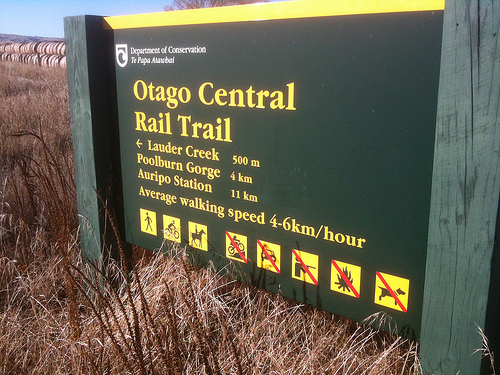 Travelling the Otago Central Rail trail New Zealand – the route
Most people staying in the historical town of Clyde have one thing on their minds – cycling the 4-day Central Otago Rail Trail. And most of us start Clyde and finish in Middlemarch.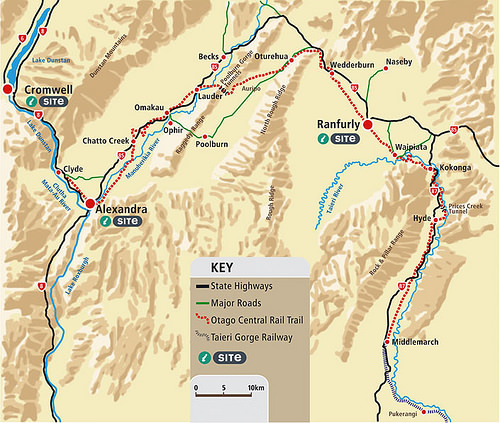 For a satisfying 'taster' you might like to try the one-day cycle ride from Auripo to Chatto Creek (30kms). You will get the Autumn sun on your backs for the whole way. And I guarantee that you will be awed by the autumn colours.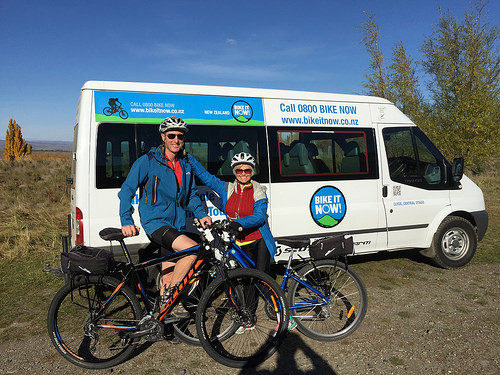 Big thumbs up to the boys at Bike it Now in Clyde. Duncan and his team operate a fantastic bike hire service and leave nothing to chance. One of the team will drive you 50kms to Auripo. And they are more than happy to stop on the way for photos. Built in 1886, this building is the oldest operating Post Office in New Zealand. I call tell you, this region is full of heritage buildings just like  this. View other cycle options in New Zealand.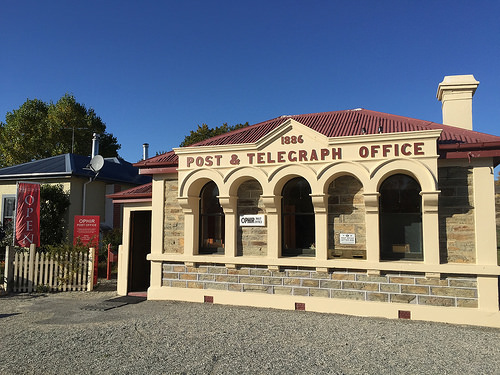 The one-day cycle trip starts at Auripo and ends at Chatto Creek, where you will be collected. You will probably start off at a blistering pace. But you quickly find that the scenery of the Central Otago Rail Trail demands constant attention – you will want to take so many photos! So you will need to discipline yourself to not stopping every 5 minutes.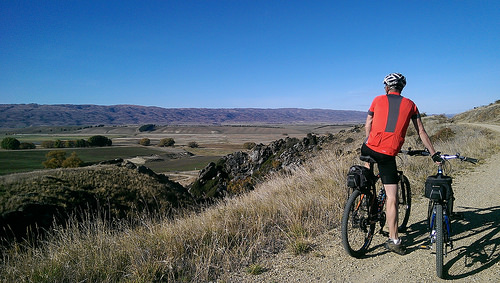 What to expect on the Otago Rail Trail
March, April and May are perfect months for cycling the Central Otago Rail Trail. (Clyde can be very hot in the summer!) The bridges on the trail may be old, but they're incredibly sturdy. They are a bit bumpy on the way over, but that's half the fun.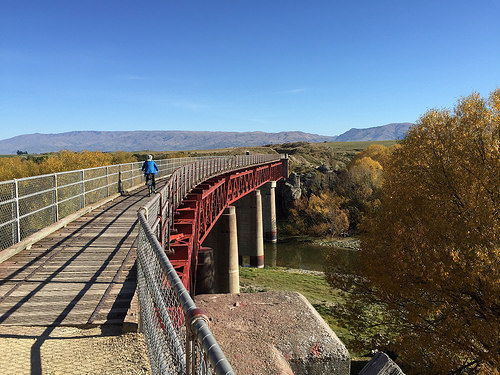 There will be a tunnels to go through.  For some of these tunnels you will plunged into total darkness. Therefore, cyclists on the Central Otago Rail Trail are advised to walk their bikes through the tunnels – and to carry a torch. Problem solved.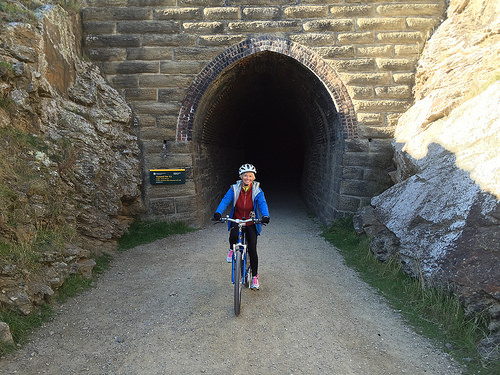 At this stage of the journey, you will be having an absolute blast. Even if you hadn't biked for months, the seat is super comfy and the riding pretty smooth. There is so much pure oxygen around and this will give you plenty of energy to spare. Meanwhile, try to look up once in a while – your fellow companions can very quickly disappear over the horizon.  But they are easy to find again, as they will probably stop further on for a look at the view. Again!
This is an experience where you, the traveller, can seek out so many quiet moments.  The absence of people can be such a luxury.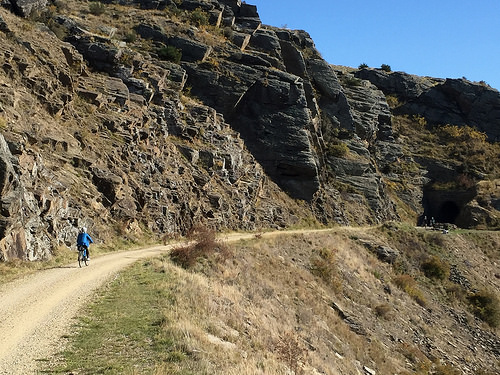 The trails are wide and pretty easy but in a couple of parts the gradient does become steeper and slightly more challenging. Try to stay hydrated – you will get very thirsty.  Take plenty of water with you.  But it is good to know that there are a few cafe stops along the way. You will get such a great opportunity touch base with other like-minded cyclists.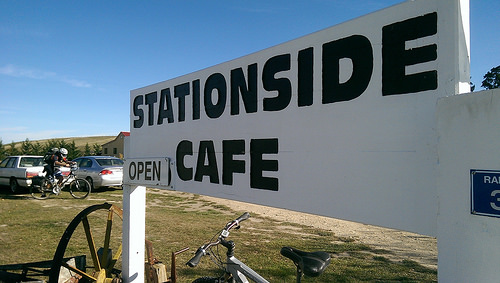 You will enjoy beautiful scones, muffins and slices at the Stationside Cafe. And you probably should stop here for a decent break anyway. As I said, there is a great camaraderie with other cyclists, strongly represented by the fit 50+ generation. Here's one of them.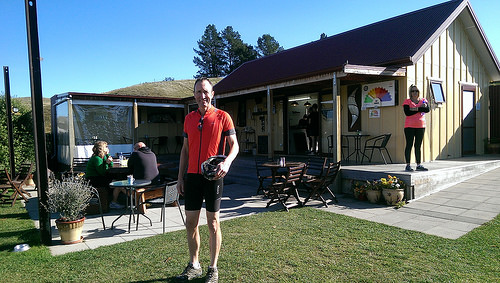 Now fully revived after the cafe stop, you may scoff at the idea of being offered an E-bike. But E-bikes are very good option for those of us that are less fit.  Any they are very easy to operate.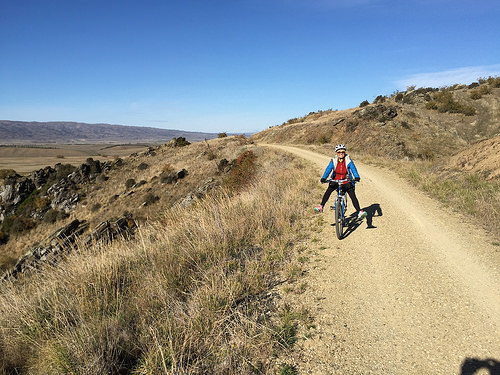 Seeing Rural New Zealand
It's not just scenery you see on the way. You will be in the heart of rural country.  It is not uncommon to come across farmers and their working dogs. These guys are often out tending to their stock. Seriously folks, this is New Zealand 'heartland' at its best.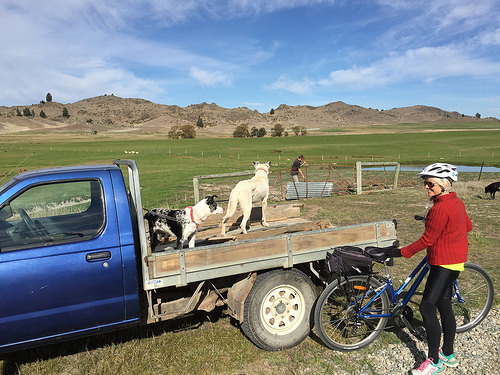 Can you believe this? –  we came across a lone apple tree growing growing quite randomly on the trail. The story goes, that back in the day, people would throw their apple cores out of the train as went through. It only takes one apple core. This apple tree could be seen as another refreshment stop. Makes you realise how good life is!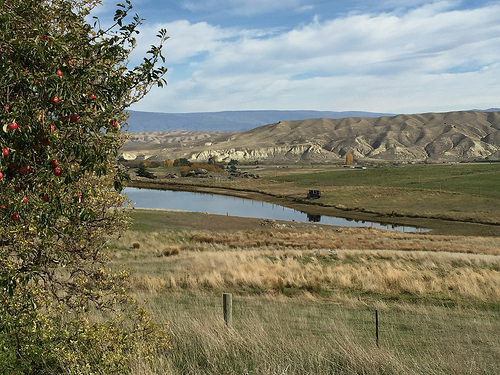 One newly made apple core later, you will be back on the bike, peddling energetically towards Chatto Creek. Chatto Creek is the ideal spot for a sit-down lunch or to simply relax over a well earned drink.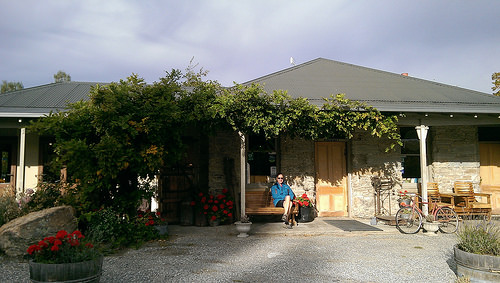 The pick-up comes far too soon. But if you want to go for longer, there is always next year. Believe me, it is a great feeling to return to  Clyde for our 2-night stay at the unique Olivers Lodge, a destination in itself.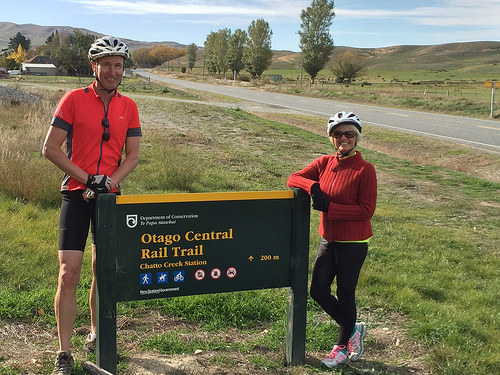 What else to see on the Otago Rail Trail?
Cycling onwards to Galloway (7km), Chatto Creek (10km), Omakau (12km), take a 2km side trip to historic Ophir. Return to Omakau. Further along the way you'll come across Oturehua. In the nearby Ida Valley,  where there is the historic Hayes Engineering works and Homestead. The original Mr Hayes designed the tools and his very fit wife cycled around on her trusty old bike to sell her to the farmers.
Wedderburn and Ranfurly areas are next. However, if you get time, do take a side trip to Naseby. Naseby is famous for having New Zealand's only international year-round curling rink. Give it a go!  Also at Ranfurly, you'll find a museum devoted entirely to art deco.
I've merely skimmed the surface here for you. By the time you get to the end of the trail at Middlemarch, you'll have your own tales of goldmines, tunnels, gorges, viaducts and of course the friendly folks you've met on the way.
Here are some sample travel itineraries, which can easily include a cycling day trip. 
Happy Travelling the Otago Central Rail Trail!