Many travellers choose to visit New Zealand for our nature and wildlife, especially penguins! Australia is also a great place to spot those penguins. If you visit New Zealand, you will get a number of New Zealand penguin colonies and species.  The good news is that visitors can adore those lovely creature in their natural habitat. Generally penguins love the cooler climate. – so that is the reason why most of the viewing sites are in the South Island. So lets talk about where you can actually view penguins in New Zealand.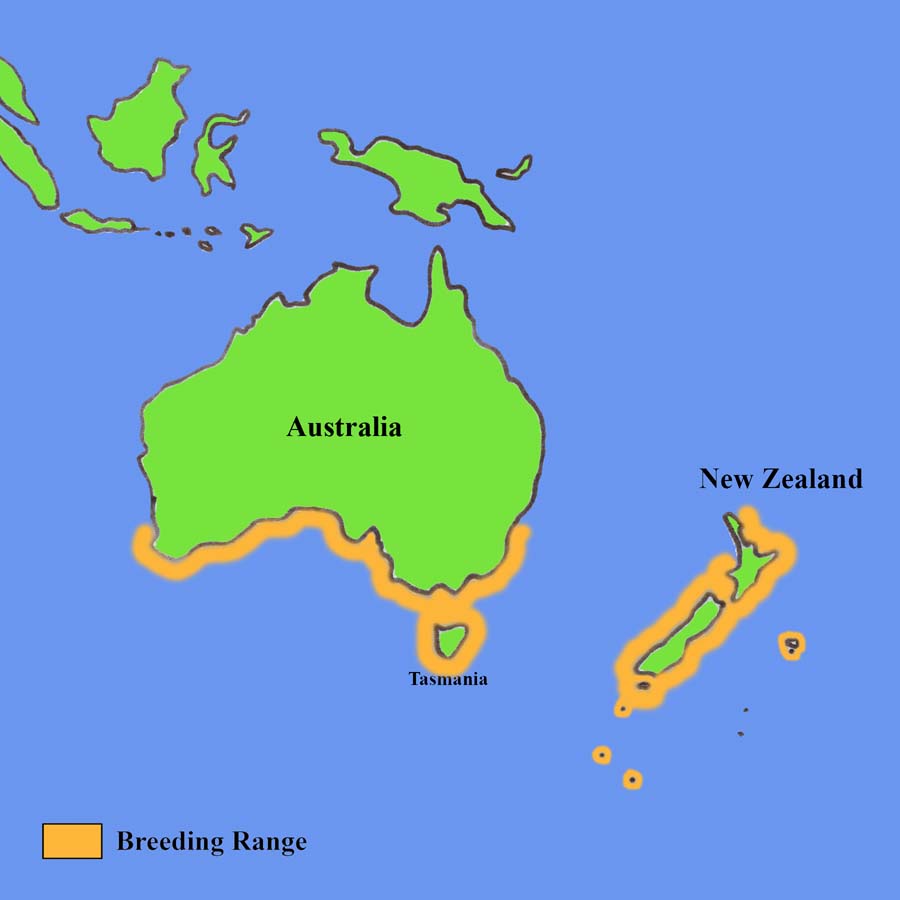 How many New Zealand penguin colonies and species are there?
First, here is an incredible piece of info:  Out of the 18 species of penguins found in the world, thirteen of them have been sighted in New Zealand. That's not too bad for a small country in the South Pacific! Nine of those 13 species actually breed in New Zealand. Their breeding takes place the mainland of New Zealand – either alone, or in small groups.
Of course, there are some species of penguin that are rather elusive. Some will actually breed in hard-to-access locations, like the rugged Fiordland coast. Then again, with some species, there is a very good chance that you will see one on a local beach! Just remember, your chances of seeing a penguin in the wild, are far greater if you go on a day cruise in he fjords or by a guided nature tour.
Little Blue Penguins
The little blue penguin is the smallest species of penguin and they are incredibly cute! They grow to an average of 33 cm in height and 43 cm in length – and are most likely found on the coastlines of New Zealand. Most visitors to New Zealand will get see Little Blue penguins in the Abel Tasman National Park and Banks Peninsula. But you can also see them around the South Island coastline from Oamaru to Stewart Island. More information on Department of Conservation site.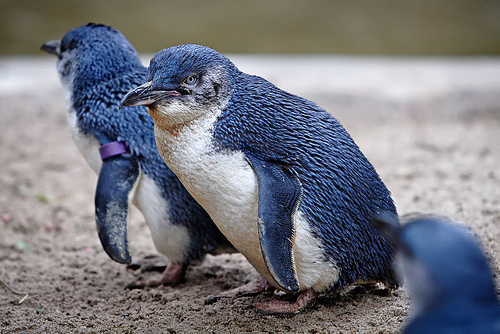 Yellow-Eyed Penguins
A big favourite of mine, is the Yellow-Eyed Penguin. They look kinda smart, yet sly at the same time. However they have become extremely rare and struggle to survive.  There are only about 3000 yellow-eyed penguins left. These cuties are found in Dunedin, the Catlins and Stewart Island (their favourite patch). The yellow-eyed penguin (aka Hoiho) is a penguin native to New Zealand.  The best way place to see these guys is at the tip of the Otago Peninsula.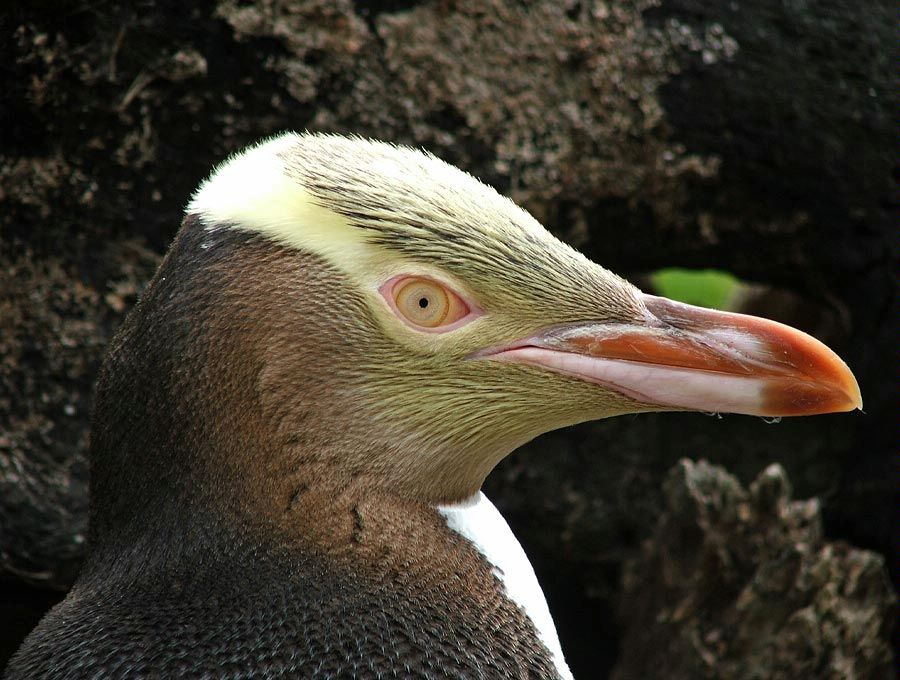 For many years, we have worked closely with Elm Wildlife Tours, a local wildlife operator in Dunedin.  On Elm's tours, you will get a lot of information from their nature guides.  But more importantly, you will get access to private farm land. Part of the entrance fees are used for the conservation project to help the penguins to survive. Also, research projects are funded. All up, this is a true New Zealand wildlife experience that you don't want to miss. Read more about the Elm Wildlife tour. More information on Department of Conservation site.
Key Notes: endemic to New Zealand, endangered, height up to 65 cm, up to 5 kg in weight. Only 3600 adult bird remaining in the wild in 2018 (down from 7000 in 2000).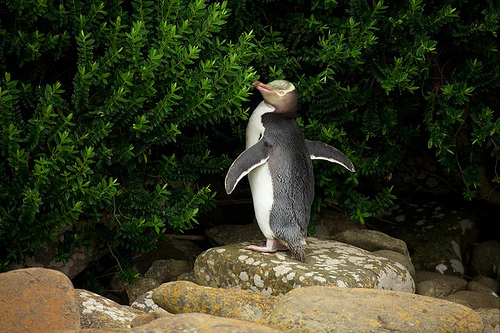 Fiordland Crested / Rockhopper Penguins
The Fiordland Crested Penguin, is also rather rare these days. They currently breed along the south-western coasts of New Zealand's South Island. If you are visiting Stewart Island/Rakiura, you will see them in the outlying islands there. Fiordland Crested Penguins breed in small colonies on inhospitable headlands and islets. The months between July and December, are the best times to see them – that is when they land on the beaches. More information on Department of Conservation site.
Key Notes: height up to 60 cm, up to 4 kg in weight. The current population is between 2,500 and 3,000 breeding pairs and in decline since the 1950s.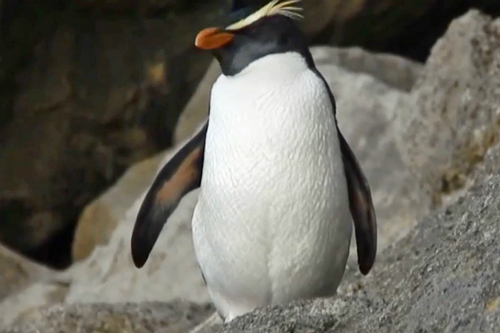 Best tours to see New Zealand penguins
On land, penguins are usually fenced off and protected from curious visitors.  Therefore, it is best to join an organised tour. By doing this, you will be able to view them from a special platform.  Believe me, it is quite thrilling to see little guys arrive altogether on to the shore. From the shore, they nonchalantly head down the tracks to their nesting burrows. After a full day's fishing, they return to the shore to feed their young.
Recommended tour options are…
Elm Wildlife tour, Otago Peninsula, Dunedin – By going on one of these wildlife tours, you will get to see the beauty of the Otago Peninsula. Most nature lovers deem it a privilege to see the very rare yellow eyed penguin in their lifetime.  But you will also get to see Hooker's sea lions, NZ fur seals and little blue penguins – all within a restricted wildlife conservation sanctuary.  However for some of us, the icing on the case is being able to see the magnificent Royal Albatross soaring around the Taiaroa headland. Now that really is a sight!
Oamaru Blue Penguin Colony – The site where the Oamaru Blue Penguin Colony is now established, was previously a rock quarry. Members of the community, Department of Conservation, Forest & Bird and Waitaki District Council fought for the area to be set aside as a protected breeding area for the penguins. In 1993, they finally got their way. We all rejoiced when the powers that be, put a penguin-monitoring programme into action.
Abel Tasman Eco Tours – this wildlife tour showcases the sparkling jewel in the crown which is the Abel Tasman National Park. Visitors absolutely flock to the park's many beaches, inlets and forests. Your skipper on this particular tour, is an expert in his field and you will be amazed at his knowledge!
Fiordland Overnight Cruise – for getting into the remoter parts you'll able to spot the Fiordland Crested and Rockhopper Penguins way down the South Island. Do keep in mind that the main breeding season for most penguins in New Zealand is between September and November.
Visiting Penguins to New Zealand
Sometimes, New Zealand does find itself being visited by 'strangers' – who are actually not meant to be here. We all fell in love with "Happy Feet" but he was definitely far from his home in Antarctica.  An Emperor Penguin is supposed to eat snow to keep itself hydrated.  Unfortunately, when Happy Feet was nowhere near snow and had begun to eat sand! But there's a happy ending to this story – after being nursed back to health he was taken out to sea and released.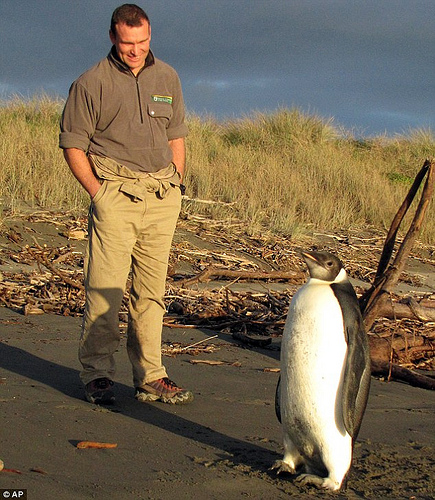 Summary on New Zealand penguin colonies and species
New Zealand is a paradise for nature lovers and wildlife watchers. Our beautiful Penguins are such a key highlight for travellers to New Zealand. With a little bit of planning, those key sites can easily be included in your itinerary. Here are some sample Nature & Wildlife travel options. Check them out and feel free to contact us for any questions.
Other helpful New Zealand travel links