Before you know it, our beautiful New Zealand summer holidays is now well on their way. And of course for many of us, that means relaxation and holidays.  For example, in many areas of New Zealand, vineyard and winery lunches are are incredibly popular at this time of year.  It is so special sitting among the rows of vines just dripping with fruit. And especially in the Nelson/Tasman, Hawkes Bay and Otago regions, you will get a choice of so many different views.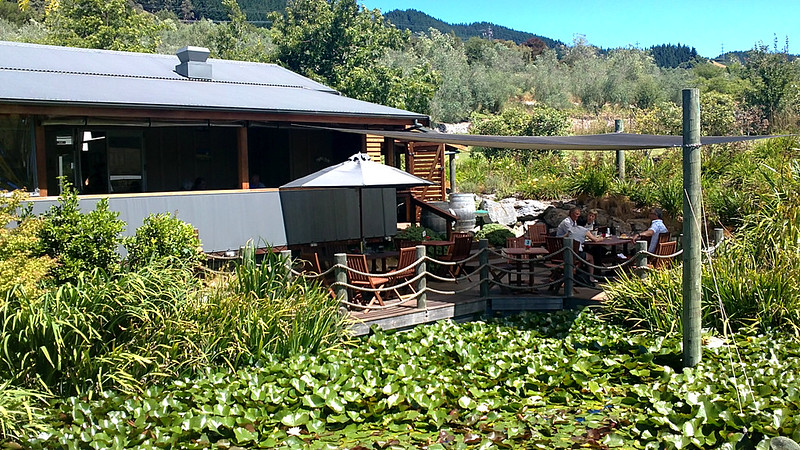 New Zealand Summer Holidays – mixing with the 'locals'
After Boxing day (the day after Christmas day) it is a good idea to spend the time you have, well away from the shopping malls.  Boxing day is traditionally the time most shops use to have a massive clear-out sale. Believe me, they are packed! So a great alternative to this madness, is to pack a picnic lunch and head down to the nearest beach.  Fortunately, because New Zealand is an island nation, you will never be too far from a beach. And once you get there, I guarantee you will be getting the most beautiful views imaginable". A great family treat is fishing down by the wharf and there are many places you can do this. You will get a great local vibe with the locals. At the Nelson Wharf in the South Island, there is a lot of activity around its harbour. And because the weather is calmer, there are a lot of yacht races held each year – it is a sight to see those sails fluttering in a light breeze.
As the morning wears on, the kids begin to grizzle. And that is when you realise that a New Zealand summer is not complete without the iconic "Mr Whippy" van.  These mobile ice cream vans will put a smile back on any little face. And even the big kids will line up for a treat like this.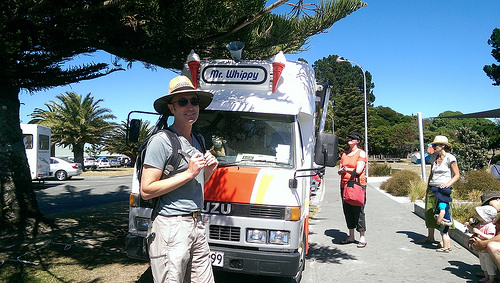 New Zealand beach life
The "Mr Whippy" ice-cream van does a roaring trade in the summer, as do the Paddle Boarding companies.  This is a great way of being interactive with the water and it's a pretty safe option for older kids and adults when the weather is calm. But it is the beaches that New Zealanders flock to. And the great thing about this country, is that you are never too far from a beach. Some are perfect for walking along and some for safe swimming – and sometimes you will get both.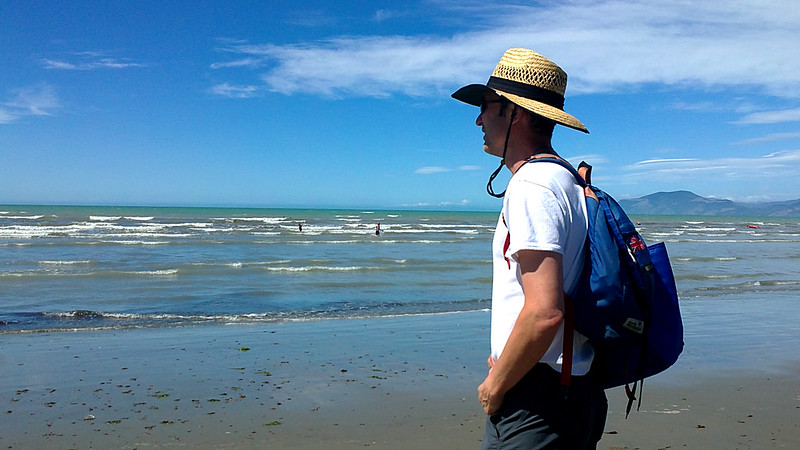 New Zealand Bush walks and hiking trails
A great way to retreat from the hordes of holidaymakers, is by getting close to nature and going for bush walks.  Throughout New Zealand, there are so many well maintained tracks. And there is so much choice, when it comes to how long and how challenging you want your hike to be.  There only thing you really need to remember, is to pack water, a rain jacket (even if the sun is shining) and to wear good sturdy walking shoes.
And if you don't want to walk inland too much, why not take a coastal track walk. This one is in the Abel Tasman National Park and it is so easy to negotiate.  Just get a water taxi out to any of the bays and walk from there.  The water taxi will collect you at designated times and take you back to the mainland.  Believe me, this is one of the purest of walks – because you get the best of both worlds, bush and an ever-present view out to the bays.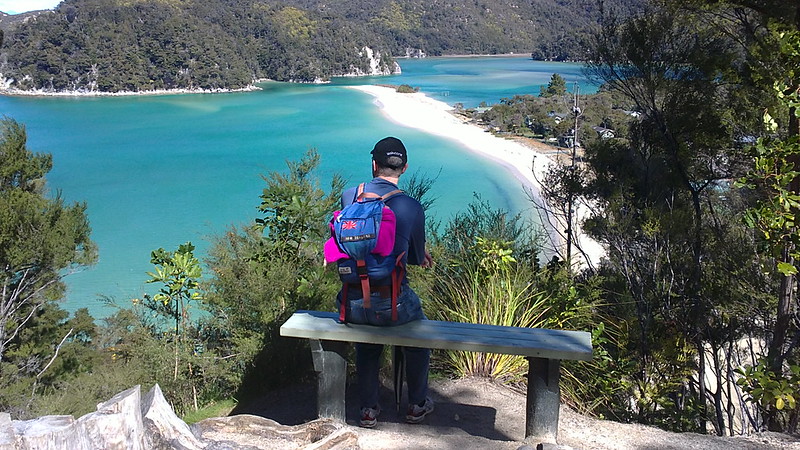 Lake Walks in New Zealand's national parks
When you're travelling through New Zealand, there's always a park bench or table placed thoughtfully placed for a brief sit-down. These seats and tables are often dedicated to the memory of someone who loved the area when they were alive. This one at St Arnaud in the Nelson Lakes area, is one of our favourites.  The views are incredible – especially if you are travelling in the shoulder seasons – you will have the place all to yourself. There are some beautiful walks around here, especially the more challenging ones.
Cycling the Vineyards during New Zealand summer holidays
And back to the wine-tasting, if you like, just hire a bike and cycle your way around the boutique vineyards of New Zealand's regions.  With New Zealand summer holidays, you will have access to some great outdoor activities. Not only will you get to exercise, but you will experience a much closer connection to the scenery and New Zealand's wonderful fresh air.
Also, check out some other helpful New Zealand travel planning blogs:
Happy Travelling during your New Zealand summer vacation!